AP courses allow students the opportunity to collaborate with their peers and instructors in a more traditional, semester-based format, with the flexibility of all course interaction being online.
AP Calculus AB
AP Comparative Government and Politics (Spring 2023 Start Date)
AP Computer Science
AP English Language and Composition
AP English Literature and Composition
AP European History
AP Psychology
AP Statistics
AP United States Government
AP United States History
All courses are reviewed annually by The College Board's AP Course Audit and authorized for official AP designation.
View AP Courses
---
2023-24 AP Course Calendar Dates
Fall 2023: August 16, 2023–December 16, 2023
Spring 2024: January 11, 2024–May 17, 2024
Regularly Scheduled AP Exam Dates: May 6–10 and May 13–17.
Late-Testing Exam Dates: May 22–24.
---
Spring 2024 AP Exam Dates
Exams will be given in May (specific dates are to be determined).
Students can take exams at home or in schools, if they reopen.
Each subject's exam will be taken on the same day at the same time, worldwide.
Registration for the May 2024 AP exams should be done in October 2023
View Full Scheduling Information
---
Course Enrollment and Schedule
Enrollment opens in May for the fall term and in October for the spring term.
Coursework generally begins in late August for the fall term and January for the spring term. See the Calendar for more details.
Any student who has an interest in the subject and has met the prerequisites (if any) may enroll.
---
AP Course Policies
Course Pacing: AP courses follow a scheduled course format with pre-determined start and end dates. Please work with Mizzou Academy to join our AP courses with a class cohort. While students are expected to stay with the course pacing, if schools or students have extenuating circumstances, we are always available to problem-solve. Our goal is that all AP students with Mizzou Academy are fully prepared for the AP exams in May.
Course Fee: Contact Mizzou Academy for course fee information. Please note there is an additional $75 fee for our AP courses.
Weighted GPA: AP courses follow the same grading scale as other courses offered by Mizzou Academy / University of Missouri High School

Mizzou Academy / University of Missouri does not offer extra weight on a student's transcript for completion of AP courses. This follows the University's guidelines for admission requirements.
---
College Credit for AP Courses
Policies regarding awarding college credit for AP Exam scores vary by AP subject and university. The University of Missouri has developed an AP Credit Policy based upon their own criteria.
---
AP Exams
Although Mizzou Academy / University of Missouri High School does not administer AP Exams at this time, the College Board has information about AP and assistance with locating AP testing sites.
---
AP Results
Please utilize the "Add Online/Distance Learning Provider" tool in their AP Course Audit account to properly document the use of our authorized courses. The College Board's online/distance learning provider three-digit code for the University of Missouri High School is 041.
Across all subject areas tested, Mizzou Academy students who reported their results scored significantly higher on AP exams than the national average. For both 2018 and the 2019 testing cycles we are proud to celebrate that 100% of our AP students earned a 3 or higher on all AP exams.
---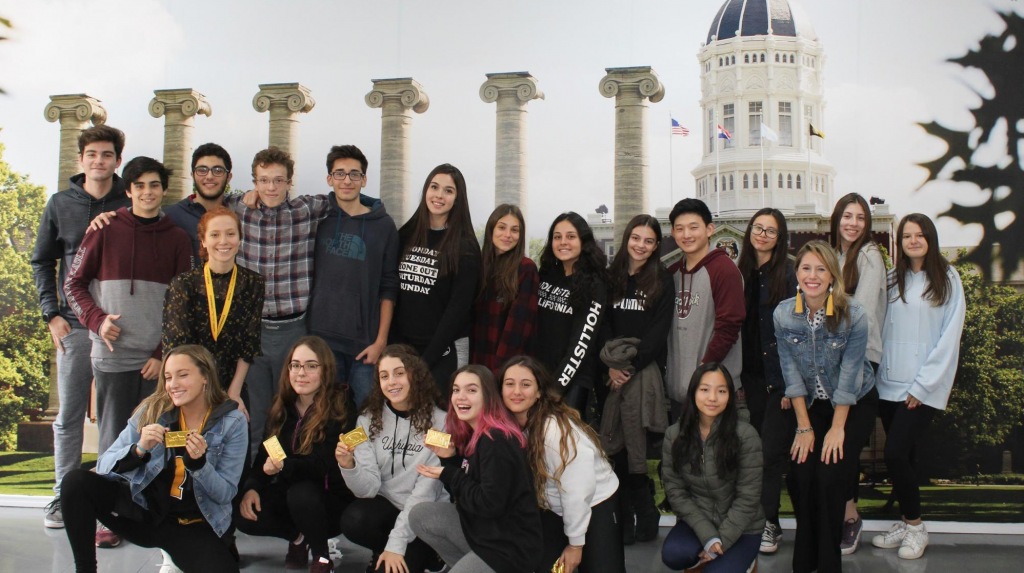 ---
Accelerated Options
Mizzou Academy offers dynamic solutions for high-ability learners and students working at an accelerated pace. Many of our faculty have specialized training and experience working with gifted learners. We are excited to partner with schools and families seeking more in-depth or specialized study from our wide variety of course options.
Mizzou Academy offers a challenging array of subjects for gifted, talented, and advanced learners, including mathematics, science, language arts, fine arts, world languages, and social studies.
When selecting courses for accelerated placement or advanced study:
Choose subjects of high interest
Preview the course description and learning objectives
Consider the recommended grade level and the course prerequisites
Assess student maturity level and academic preparedness
We are proud to support advanced students in differentiating pacing and content access by offering deep content exploration such as learning a new world language, accelerating their math studies, and even pursuing early high school graduation. When considering these options for students, the National Association of Gifted Children offers the following resource on acceleration.
---
AP Courses Available